Gulf Superyacht
Market Report 2022
Download PDF
Full report (20 pages)
The Gulf Superyacht Market Report 2022 available for free download now
Written by SuperYacht Times
During our Gulf Superyacht Summit 2022 in Dubai, the attendees were presented with SuperYacht Times' first Gulf Superyacht Market Report. For this report, our Intelligence team took a deep dive into the superyacht movements in the Arabian Gulf region, as well as the market dynamics in the region. And now, you can read it too, as from today the report is available as a free download.
Some key findings from the report:
- The number of superyachts visiting the Arabian Gulf is rising each year
- 2021 already saw 104 superyachts over 30 metres visiting the Arabian Gulf
- For 2022, we expect over 130 visits
- Over 80% of visiting yachts were owned in the Middle East or Eastern Europe
- We believe potentially up to 850 yachts over 40 metres could visit the Arabian Gulf in the future
- Around 260 superyachts over 30 metres are owned in the countries surrounding the Arabian Gulf
- Owners from the Middle East have on average the largest yachts in the world
- The superyacht refit industry in the Arabian Gulf is currently underserved and has an enormous potential for growth
- We quizzed several market experts about their views on the superyacht market in the Arabian Gulf. Read their feedback in the Gulf Superyacht Market Report 2022.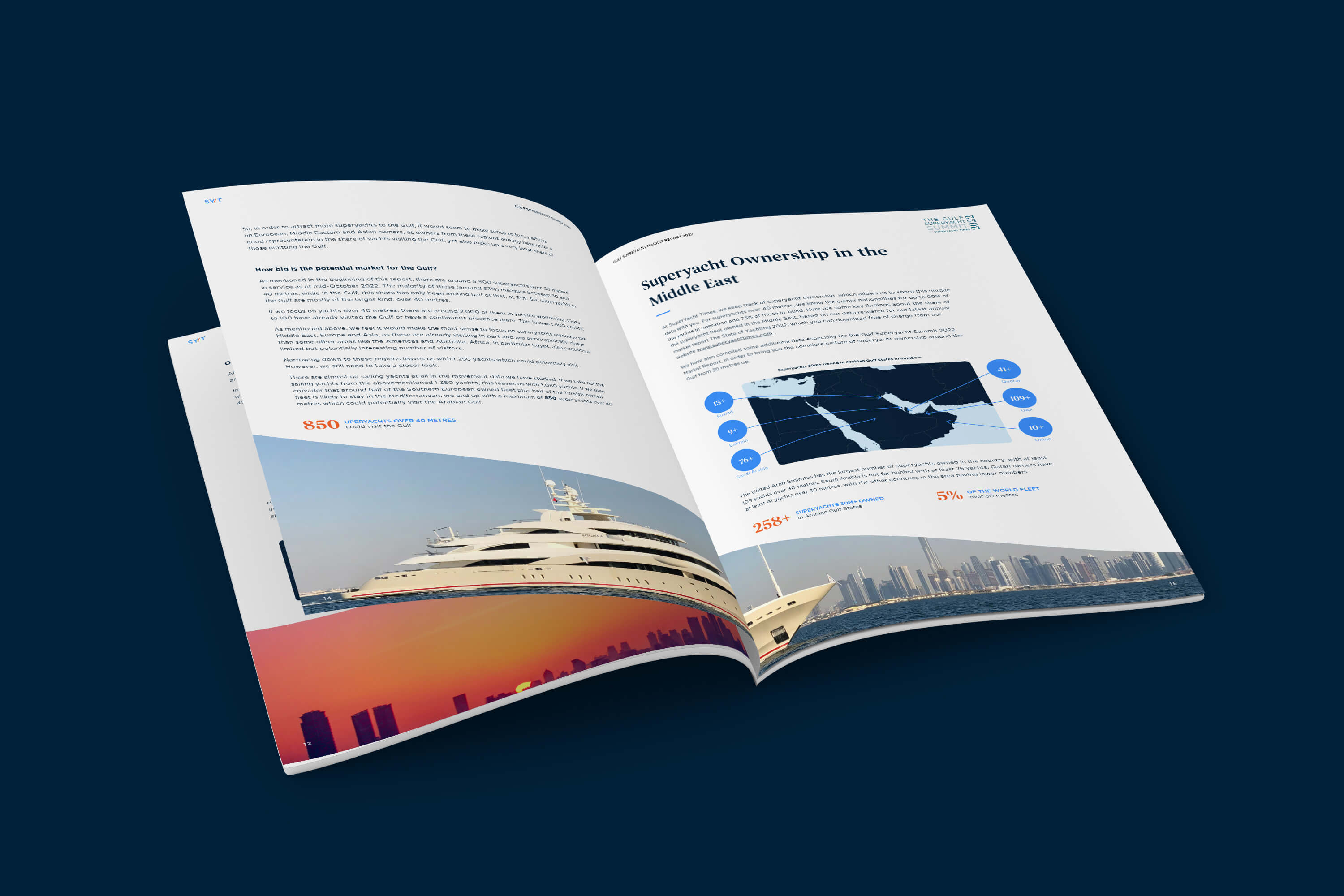 Want to know more?
Download the report now!
SYT iQ bespoke consultancy
Would you like to increase your footprint in the Arabian Gulf superyacht market but are you missing the right data? The Intelligence team of SuperYacht Times performed research specifically for the Gulf Superyacht Market Report 2022. We could do this for your company as well. Interested? Get in touch with our Sales team on [email protected]